Dear reader, as you know, I was in the Wimbledon qualification on days three and four, that is, the last two days of qualification. Yesterday I shared the article with you on the third day, now it's my turn today, the fourth and last.
Changes I noticed in the qualification of my last time three years ago today:
1. I had a little queue of about 20-30 minutes, payment of 10 pounds, previously it was free.
2. Few people knew of their attendance, today more influx.
3. A couple of courts have mini-stands.
4. Between track and track has been asphalted, only one can go to the back, but the genius who came up with using that asphalt, has shone, because with the heat the feet burn, they are real fire, in addition standing up, I have seen people taking off their shoes, or with a towel on their knees. I hope they change that material or put something different, because it is an absurdity.
Focusing on the matches I have seen today:
Marcel Granollers vs Attila Balazs (since I was able to access the venue) and Marcos Giron vs Viktor Galovic. (sideways at each other's breaks)
Popyrin Alexel vs Bjorn Fratangelo and Dennis Novak vs Mikael Ymer (last two sets since Marcel's ended)
Samantha Murray vs Paula Badosa (Full match) and Arina Rodionova vs Danielle Lao (sideways between each other's breaks).
Yanina Wickmayer vs Liudmila Samsonova (since Paula's match ended)
Anna Blinkova vs Tereza Martincova  (since Wickmayer's one ended).
THE APPRECIATIONS
Marcel Granollers vs Attila Balazs, the first thing that Marcel never disappoints to see him play, is also peculiar with his grips, in this type of court he becomes even more playful, a very marked style that you are no longer going to change details, he knew how to recover well when he went for underneath, doing great emotional management in demanding moments and with rigorous balls, he should have moved more legs to the opponent, since Attila, you could see him clinging to that marked area or whatever you want to call it without being daring.
Marcos Girón vs Viktor Galovic,   what little I saw was surprising because in the initial aspect Viktor , not only in height but in power of the blows and presence forcefulness, however Marcos knew how to hold on when he had to, get up, change direction and height, where else it hurt, the other being almost never mentally in the game.
Popyrin Alexel vs Bjorn Fratangelo, going by parts, luxury spectator, Pat Cash , well Alexel, it has been a long time since I saw a player who over and over again, only his serve would get him out of trouble without immediately relying on any other blow Of course, his height does it, but also that he has a very clean serve, something good for his physical condition and durability of his career, now he has a serious problem with the right, if he wants to beat those above, that right must be Much more natural, it goes as forced, I need more cleaning of the arm, fluidity, giving it natural sensations, free confidence that I call, if it does not improve that, it will have too many difficulties. FratangeloHe should have been more patient, even smarter, more and better supports, pulling out his arm with more consistency and improving his decisions.
Dennis Novak vs Mikael Ymer, Dennis an example these last two weeks that life puts each one where it belongs, he was close in Ilkley to get direct wilcard for Wimbledon , he lost the final, now in the Qualy, he has his place where he belongs. Technically speaking, it is really very good, if I reflected on a point that I developed and worked on, I think I remember at the beginning of the fourth set, where he moved the right ball, backwards, with subtlety, absolute naturalness, tremendous fluidity, from one side to another, and insisting, a rally where he did everything more skill than force, if he managed to apply that permanently, with perseverance, if he was aware of that, I don't know where he would go but he would raise his level and options to everything, I would have no doubt.  Mikael,In my opinion, not only in the serve, but in all his strokes, he has a serious problem of support, balance, fundamental base of the shot, and then take better distance from the ball, get more weight and speed, he has a lot to work on that aspect of legs, to be much more familiar to those above, it is clear how athletic he is and a lot.
Samantha Murray vs Paula Badosa,  starting with Samantha I lost count of the number of unforced errors, very bad leg placements, the ball almost always happened to her, how many balls were bitten, something that in these levels surprises that it happens, only in base without any displacement, very dangerous shots came out, mentally with many spikes. Paula,Following yesterday's dynamics, attitude and aptitude of 10, it was true that it was "funny", in the second set to hear "I'm leaving, I'm leaving …." with a certain respiratory suffocation, all that emotional part should be worked on more, Technician I still think the same, from half the track forward is great because those grips easily help to lift the ball making the net smaller, but honestly in the background it is a disaster that makes him suffer more than necessary, his right in a spectacular race His grassroots career could still run more, on the serve he was very good, but I already said those two "small details" must be worked on or evolved not to get there but to stay, perhaps enjoy much more on the track, in the end they are united in the hand.
* Congratulate Paula because she is in the Wimbledon box, for her great attitude, but also make a real reflection, see the reality of what is ahead of her work, seeing the rivals of yesterday and today, how she has accessed the box In the end, even as I say, more than her tennis, her attitude has led her to be inside, now there will be another story to follow on that journey.
* Anecdote, yesterday Xavi Budó was given a Warning for coaching, the truth for once I am with him very rigorous, neither the form nor that moment was the ideal lacked sense, and today the chair umpire was very close to giving him Some during the third set, insistently did not stop looking at the corner, but the judge was well restrained.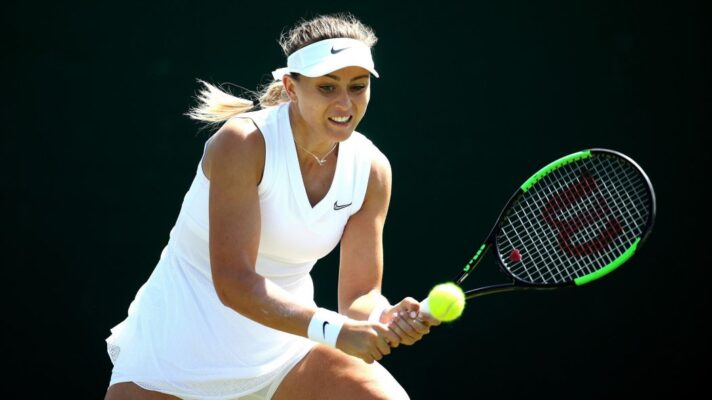 Arina Rodionova vs Danielle Lao,  I barely saw anything because I was focused on Paula's , the little I saw was a loose match, without legs, without mobility, in the end obviously the ball passes you, especially Rodionova in the first set, after having More variety, physical, he recomposed himself, pulling more, Lao arriving badly placed, abusing his floating rights excessively and with a weak serve without weight or power, with minimal support, even if it was low, it is not sanctioned performance to the advantages of it.
Yanina Wickmayer vs Liudmila Samsonova , it is said that women's tennis is not good tennis, because this match was, of those that entertain and amuse, I saw the final part once Paula's ended , tremendous exchanges and rallies, Wickmayer Like yesterday, really superb from top to bottom in all her emotional management, technique and decisions, perhaps more pause and softness in the blows, Liudmila, tightened and complicated the closing of the game, with good mobility and directions, even a "bravo "On the part of the opponent, I saw her with conviction, a late ball and below, a ball in the back and a match bolt.
Anna Blinkova vs Tereza Martincova, I saw the end of Wickmayer once it was over , not at all a game that detracted, good tennis too, she knew how to hold on, upset and force her to lift the ball, be patient and not worry despite seeing how they tied it at 4 , and even saving a match ball or serve to continue in it, Anna shot and shot, especially leaning on a great backhand with a long distance, I think the right should catch it a little earlier and not lengthen so much to close the blow, she hurried in too long. Bravo to both of you.
Next days the Wimbledon Championship in its main draw.
Faithfully with affection,
A lover & respectful of the values ​​and spirits of whatever sport but specially The hidden on tennis .
Remember:
ALWAYS PURE TENNIS !!!