everything that I consider injustices, cruelties and serious acts of human irresponsibility, in this case what will happen next May, will be another space , where of course without pigeonhole all the speakers in the same group, there will be another act of aberration and foul play against the MENTAL AND PHYSIOLOGICAL HEALTH of the human being.
At this point I think it is good to go back to different circumstances that occurred during the past year, even this year, supported by digital, simply make them much more visible and present, the incongruities between the verbiage and the facts:
1. The chief of teaching "resigns" with leave to dedicate himself to personal work with much less responsibility and to take care of his son. Now we have two "Puppet and Shadow", out of the 5 gregarious they are well known.
2. National / territorial training courses, especially in some cases, with videos for the end, remains in evidence from beginning to end, the serious matter in which we find ourselves, beyond the traffic of influence, are the dogmas or uses of those we dogmatize without question.
3. All the exponentiation during the quarantine by many irresponsible coaches, psychologists and mental coach intruders, playing the game of the word for the lack of content and caught in panties or to the external accusations, always the guilt is of the cobblestone and of course with weight or spaces in a public entity RFET .
4. The national symposium. The imbalance between speakers, where some were in an emotional state that was ashamed to listen to them or simply see them in that state, and especially the joke, joking and ignorance towards a subject that each time due to said current situation becomes very palpable with severe physiological consequences .
After many of my criticisms, there were many human beings, if I can call them that, who decided instead of learning to block me, as if I were an enemy number 1, without even knowing me in person influenced by others or even worse. do your own evaluation, although if they did it, they would probably also make it contaminated, something like when he tells you part of the story of a movie before going to see it, unless he has high emotional resources, before seeing it he will already be absolutely stigmatized, you know how curious some of these "human beings" 3-4 days after their actions-reactions gossiped on my LinkedIN to see what my resume was, instead of asking my face directly, prejudice over knowledge, a know for sure that it would be mutual,at least on my part it's always like that.
"Learning more from others than they from you, unfortunately is becoming socially dominant."
My 25-year-olds tucked directly under a bed or locked in a dark bathroom, every December and part of November, festivals or days of storms or various noises, in parallel to all the work both innately and guided that I am Always explaining through my social networks, my YouTube channel, and my website, they give me calm and absolute power to speak with a very powerful Psychological content, perfectly to be considered scientific and to openly denounce situations that go against all MENTAL HEALTH AND PHYSIOLOGICAL.
I absolutely recognize that the atrocities committed throughout the past year, by some and by others, are not carried out on purpose, but from ignorance, bad advice, dogmatic circles and especially a need to escape from one's own fears through clinging to external "steel" bars (self-delusions) that serve as excuses to stay as long as possible away from a personal area of ​​which they have an enormous fear, ultimately pretending to be Men, without actually being men.
Psychological – Emotional Self-responsibility.
First of all I want to make it very clear that I have nothing against Mr. Ruiz Cotorro , I imagine he will be the main organizer, also they have always spoken well of him, even if it was not like that, only knowing how to observe, that is, free from prejudice (fears of past) one realizes the solubility of the person, however, if I see myself in the human, moral and ethical responsibility , to continue with my defense at all costs, and not only my enormous passion for tennis, to which I owe much, but for human rights and my affliction towards my neighbor, in everything related to mental health, which I know by heart, I have already talked about why, in addition to very easy contrast, and therefore because it is increasingly clear to me that they go in a parallel line,human physiology.
I feel, of course this without telling anyone what they should or should not do, that the Deontological codes and the ethical-moral (human) codes should always remain above the professional colleagues, friends, or personal interests, basically as each we see more and more the boom, putting other human beings in a dark tunnel of months or even years, accumulating confirmations of lies, one after another, instead of looking for truths, not only some of the speakers who will walk in this course or congress, out there with training or congresses there are a few, with almost daily evidence, continuous external irrigation, the truth is that although these truths hurt, they are skinny favor not only to the individual himself, pushing them little by little to a precipice with dramatic consequences, but also the serious damage that the group will receive with different final triggers:

* Remember in capital letters that the word FRIEND is very important, if there is no observation, or coexistence in space and time, as well as open communication on all four sides, unless you have a very polished psychology, it is very difficult to know each other. to the other, a less viable option is to have shared childhood, there if you would have a very important base of the other person, regardless of the evolution that they have acquired.
1.In a public entity.
Unlike other public servants, including their own colleagues from the federation in question, you owe yourself to an evaluation, a judgment without reaction time or correction, allowing feelings to always be above facts or realities, It is very dangerous, it is exactly the same as if a judge left criminal law aside, judged through feelings, these paradigms are not concise speculative with the situation that occurred, this unfortunately is the common movement within the RFET, ex -players (even if they are dogmatic), so and so from such contact or place with whom you have friendship with someone, "take care of it" .., etc ..
That Russian roulette in the civil service game , through beings with an enormous attachment to the institution or in other words an institutionalized being (already explained in other articles), is like a very similar attachment of those players with fear of withdrawal, injury or any other external factor that truncates their only possible path, based simply on routine, self-confidence or confidence that that path may exert, but with zero self-esteem on the horizon, which makes the evaluation of a situation makes polluting, limited decisions, and tax executions, without creativity or development, since everything has to revolve around the present navel, that also from"the deceptive freedom" of not having anyone to give you cane, pressure or execute from there, because a president of a federation , perhaps does not know the deppote in question, apart from many other details, nor does he drop, nor is he expected, Although one can say that there are other steps, that is also part of management, of good leadership.
In short, they have practically never worked in private, nor do they know what it is, being a totally institutionalized being, so much so that the enormous fright to be out of there, because outside of there, they are nobody, they are nothing, not even human, because until we suffer things in our own flesh, and not in the front, no matter how close they are, we do not become aware or even psychologically self-responsible with ourselves, being SELFISH out of fear, because of a scare of the host, always padded by palm trees, doing us a disservice among human beings, then our Ego has to come out before our possible and imaginary defense, as unreal as it is stupid.
Honestly, something like this in a private entity, is the immediate cessation, to avoid a business crash or business closure, any action like that is inconceivable. (Below in the consequences section I explain what it has and is having in this case for TENNIS).
2. In a Private Entity. (With broad wisdom, son / nephew, and indirectly in other neutral places as an employee.)
Here the bullshit, the fair, responsibility, discipline and ethics , do not leave room for any space or time, you are dependent on the demands of the clients, the times that they mark you and even the procedures, always at the same pace to get to the date marked, here I greatly enhanced the importance of the combinations of psychological rhythm and dynamic rhythm , if you look good, a matter of mental cleanliness, it is preferable neither to eat, nor to break it, even so there are times that even that space of weather.
You must be in several places at the same time, without absolutely anything or anyone turning around you, a firm and clean communication, the messages always when they correspond, knowing how to coordinate , delegate to others, a great listening if you do not have the active one, as well as a great capacity for reaction – action , anticipation of events, but above all you are not the navel where everything revolves, spaces and moments rule over your ego , generosity, companionship, especially having to support youIn others, when it comes to the customer, whether you like it or not, the company's experience is above, the customer always rules.
Obviously, there is no watch here, only full dedication, given in body and soul, above all you like the work more or less, you must do to love it, embrace it with all the passion in the world, for several reasons:
Seamless self-love.
Enjoy doing it.
Service to others without asking for anything in return, time makes up for everything, but you must give yes or yes, to receive what was surely later for you.
Feeling of usefulness and emotional integration towards the world or your sector.
Passion in delivering self-criticism and questioning every detail permanently.
The authentic and vital mental turn of making you like what you do not like, that is to say constantly looking for all the faces it has to integratively contribute to yourself and the group later on.
In short, I no longer follow the differences between one another, which deviated from the subject, the issue that addresses us is much more serious, Mental and Physiological Health, now in the consequences you will see it very clearly, because what is going to go occur in the next month of May, on the part of some points, it could be defined openly niguno, as an attitude of AUTHENTIC HYPOCRISY !!! especially themselves.
Let's get to the point, I start with the consequences of a private entity, which is shorter and then we enter the public ones that there is a lot to be done, it will not even give for an article.
The consequences of a very bad management.
In a Private entity. Sinking of a company or fleet.
The treatment of the client will be ineffective and forced , not natural or generous without waiting for a return.
The priorities will be inverted , conditioning the work of the group.
The motivation and sense of doing and existence of the workers will decline without restraint.
Absence of the fluid daily struggle to keep the business or company open.
Excessively empirical attitude, very subjective without base on the demands set by the client.
Group breaks , collaborative absences.
Routine accommodation or oxidation, the only thing known, "Fictitious protection of my territory" , an absurd dispute between yours and mine, an immobile attitude that will create sooner or later a great damaging chaos inside and outside the business. (Seemed to be institutionalized)
Blind vision of believing that you see everything , when you do not spend enough time in each department, much less if you do not have psychological or communicational connotations.
Loss of new contracts and even those already owned.
Collapse of the business, with irreversible closure or transfer to a new buyer.
….
…. …. I could continue to count many more very important points, but now it is not the case that it conceives us, … simply named in consciousness mode.
In a Public entity (Case of a federation adrift with HYPOCRISY by flag).
No vocational attitude . zero transmission or educational contagion in this regard.
Without permission to change or rather evolution, condemning permanently, with the excuse "If something works, it doesn't change" . Now will injury prevention, such as hip injury, matter? Tell Murray …
Imposition of the game over teaching without balance or sanity. A simple gesture at different ages does a lot for a future injury and the same gesture repeated a thousand times the chronification.
Coercion, classifications and conditioning conditioning labels, especially scandalous what is pretended with children without forgetting the rest, being detonating allies in the event of any injury. Now will injury prevention matter?
Development with structured and marked nomenclatures to the detriment of the person, since they are a child, socially the branch is before the branch with its label than the person himself. A chair with three legs and a very important limp, the longer the cut-off time, the more mental and physical problems it will attract.
Elimination of creativity by the feeling of control. The more feeling of control, the more tension, the higher the chances of injury.
Repeal of critical thinking. Non-existent mutual learning. If one of the two parties is not willing to learn from the other, it is a very serious fissure and a high degree of injuries, especially if it is or are the zero teachers willing to learn every second something new or power or refresh the existing possible .
Empty formations, employees – trainers of teaching without knowledge, therefore, or wisdom.
Abusive Dogmatic follow-ups, especially the ex-players who are becoming coaches, quite dangerous especially for mental injuries and correlatively with physiological ones, now will the prevention of injuries such as the hip matter?
Visual and reflective limitations, conditionally important for the appearance or increase in severity of an injury. If instead of being in flat things like dominant or non-dominant, we saw that psychological development has a lot to say about the empowerment of our five senses, another rooster would crow. When will we be aware of what it implies in the whole of the living being?
Inverted priorities and steps, the result of ocecations unnatural to our species.
The support or support on different technological tools as means of escape or justifications (instead of simple reinforcements) , an alarming as an evident example of abysmal psychological and training deficiencies on the part of teachers and future teachers, with the danger of serious injuries or even chronifications severe. "The most serious thing is to see coaches showing their chest in this regard, whether by using them or even having created some of their own homemade tools, without realizing that they are making sure, among other things, the training deficiencies received, normalizing said aberration."
No tennis and personal training, or you are lucky enough to find a teacher who is generous in sharing wisdom, apart from your self-critical bother in the search and integration, or the mental and physical destruction will be the daily bread of future students or players unconscious.
Creation of congresses / courses, or justifications for "Recycling", bread for today, hunger for tomorrow, without order or solid foundation, EGOS satisfaction approaches, that is, we are not what is important, but what and how it will reach those who go to them. On the current status of teachers "Without training monitoring capabilities because they have a role but no training", very eloquent just by pausing.
Manufacturers of apprehensive or "subtly" dizzy states among the players, a detail that is seen a lot in competitive players, an ally of maximum severity in terms of the appearance and chronification of injuries.
ALARMING ignorance or awareness of the impact of every technical detail or gesture on the human body. Now are injury prevention going to matter, including hip prevention if there is no basis?
FEELINGS as evaluation tools or influential in Research work , takes us away from COHERENCE , this point is the most important, most complex and most damning of all the others, it is very, very dangerous, constantly making evaluations through feelings and not realities, "you can ignore reality but reality will end up eating you."
No interest in cultivating passion and curiosity, an obligation to get out of his fictitious little piece of "security."
No preparations for the private sector, neither they themselves nor of course any of those who come to train.
Lack of personal self-criticism.
Absence of Self – Psychological Responsibility with oneself, a vital DEMAND for a position of correlative time limitation compared to other civil service positions or private entities.
Lack of LEADERSHIP. Comprehensive and empathetic empowerment of the person, if possible the third of the three types of empathy that I have always been mentioning.
Confusion of the Authority with the Power, through transmitting an ecstasy of nerves, messages of fear and the creation of black and white conflicts.
Absence of the extreme and external demand, of a client or clients who do not go around with bullshit in demand of time, objectives and constant rhythm.
Resigned and complacent mass, head down and absolutely submissive because they feel that nothing can be changed, they see it as normal, "mere paperwork", including influence peddling.
Without pressure to keep it open, "False tranquility of never closing the curtain", no solutions are sought, only complaints and external culprits, accommodation to habits and beliefs, limiting, preset and rusty over time.
An abuse of civil service but unlike other civil service positions, specifically in the federative teaching position there is an evaluation of correlative times, without time action – reaction, except of one's own will, to manage beyond first impressions, unlike other positions university or college where the space of time and correction, self-criticism is more spacious. It is vital that whoever is in a position with so much immediate influence on an individual as on a group, is humanly at the maximum of their capabilities, even more obligated if they do not have psychological connotations, with absolute self-responsibility, avoiding damaging incongruities such as damage to the own sector with the sums of the deficiencies.
Institutionalization, creation of a self-concept full of lies, held ignorantly and silently by those around the being or beings, outside of there they are seen to be excessively vulnerable, without use as a weapon.
All research work, highly conditioned by points 9, 10, 16, 17, 23, 27 and 28, which becomes very counterproductive results towards the group and a limited advance of everything that could be done.
…
CONCLUSIONS.
Surely I forget many points to mention about the consequent flattening of a public entity, in the case of a federation, in this case teaching, in the same way that a managing director, deputy director or both would have a self-responsibility first with themselves, then with the company or public entity to which they are owed, that includes your own internal and external personal image, the image of the client, obtaining results to keep the vitality of the company alive and even possible future growth (something that a public entity is not present or has such pressure), as well as the message that your closest collaborators and employees receive, basically the engine of work towards the client.
That said, it is a very irresponsible attitude, to continue feeding hypocrisy and lies at the expense of the search for truths, but above all of the health of those involved themselves, isn't it all an image that could be defined without any kind of fear as an attitude of moral cheek? , Some think limiting seeking responsible or guilty, that's a waste of time and energy, I'm not who they do or not, I only know one thing, I will defend to the hilt with every possible means, with l to MENTAL AND PHYSIOLOGICAL HEALTH , do not play, PSYCHOLOGICAL SELF-RESPONSIBILITYIt is essential, in a private company it is to cut your neck or call for attention depending on the case, cleaning and return is a necessary good, I can have a better double example so close, as well as those experienced externally, but if we put an external example that someone I know comes to mind, disconnection and back with more force, it is Steve Jobs , whether or not to the liking of some, in the concept that I am trying to explain is clear, as well as other parts commented in other articles, it is understood where I intend to go.
Another clear question comes to me, if a human being is not self-responsible with himself psychologically, regardless of his position or economic status, what MORAL CARADURA do others have to teach something, and much less when they have spent years and years walking in the opposite position? ? Does it make sense? …
In addition, if we go to the balance of the congress, or we go backwards as we saw during the national congress as well as in other previous situations, the formative imbalance between speakers will be so abysmal that it is not necessary to be an eminence to foresee the exhibition to which they are going. to be exposed, the image that is going to be given, and the bewildered formative chaos that can be generated, that if we add that the spectators from the world of tennis, subjectively their attention focus (except psychological development, that forgive put my doubts ) Those who already know or name it will be more borrowed than those new to them, although the others have very effective and efficient content, with whom they would share hours, months or years of work learning from each other.
Here comes another question, do you pollute or help? short question, but very clear, and basic about our psychological state , it does not matter your job labels, the successes achieved (it would be necessary to define that it is that of success, it goes a long way), … etc … above all That is a HUMAN BEING, except for a powerful psychological development, something that is not taught, or although very important emotional bases could and should be laid, you will be very, very exposed to any inclement of life, and as they accumulate without stopping, the day of the explosion, or the final trigger will not leave a puppet with a head.
"They don't know what they're doing because they don't know what they're doing to them," Cherteston.

" First let's learn to be INTELLIGENT before going then on the roof. (indirect by Emotional Intelligence)" by Carlos Azuara.
Following that great reflection that I heard the other day, which is highly visible both individually and individually as well as collectively, this is how we go very blind, barely seeing 5% of the information of everything in front of us, following some patterns of psychology behavior very marked, we can be 17 years crooked that although year after year, we reflect it in a photo, we do not even see it, yes gentlemen a photo says a lot, body position, shoulder placement, chin, face, eyes, hair, situation Of the vertebrae, legs, hands, arms, the clothing as it is ordered or placed, and even any other material condiment that goes into the photo, it will tell you a lot about the psychology of the person , their emotional stateof that moment of the photo and its progressions or null progressions in this regard, so on; in the same way as the language used in a text or message, such as the language used at the verbal level, verb tenses, adjectives, common names used, everything that is unrelated to the cliché of habits and beliefs from their thoughts, that is, their state of mind. IT IS A DETAIL OF VERY DIFFICULT OBSERVATION BECAUSE OF THE SILENT AND FAST OF THE MOMENT, THE MENTAL AGILITY MUST BE VERY FAST TO HUNT, like an EAGLE !!!
Here comes another question to me: How long will an individual or group be pushing another, pushing him over a cliff, due to personal subconscious interests, hidden among colleagues and interested friends, over and above deontological and ethical codes? Are we waiting to finish pushing it in free fall to the bottom of the cliff, while the collective pays consequences, but especially themselves first?
"To think is to think against someone" Gustavo Bueno.
"Let's teach how to open walls, let's see a path never notified before." By Carlos Azuara.
The human being has the habit since ancient times, in recent decades with bravery, vehemence and force to find their feeling of belonging in others, individually or collectively, a rootedness of false security, very destabilizing measuring bars, leaving possession very relegated of content or quality of the same, everything is due to the fit and movement around, without awareness of the liberated as an individual , apprehensive by the dogmas and stigmations considered valid in our self-concept, generating at a collective level three currents:
The continuist. Hermetic conditional cycles without direction, a lawyer-defender attitude, which distances each individual from the group or relationship from reality, something very dangerous as one navigates at very high personal levels. "Gender violence", "Training groups" ..etc .. we could almost say that it would take us to the third stream.
The one who goes out of the stream. The critic, who leaves the current, outside of dogmas, stigmas, that is to say prejudices, exposes other dynamics outside of the marked perspectives, something always very frowned upon, in view of the fear of each member of the group in themselves.
At the push of the manipulated within the current, without knowing it, the cruel game with emotions, very marked by feelings (mentioned in point 17) and along with Cheterston's reflection, through the silent path, intangible a priori, and supported by social and labor interests or a mixture of both, we are leading the person through his subconscious complicity to a state of such manipulation, submission and media exposure, with such enormous evidence of the state of his interior, of which he does not They will have answers in this regard, that is, neither assimilation nor recognition, being extremely sold, a very detrimental situation first for themselves, and then for the group or close people who prefer to continue irresponsibly looking the other way.
In the end, these currents do not cease to be Dynamics of the game of social behavior , the information received by one and the other, in an absolutely subjective interpretive way in the very fast journey of first impressions, an impact highly influenced not by experience, but by the Experiments that we have had with them, that is, how we have wanted to live and learn from them, if these currents occur for example in a social group without more, as it can be between colleagues in a village, the thing remains in laughter, hee haha , in mere anecdotes and possible growth, however if the situation occurs in a public environment or entity, things change, conditioning any evolutionary – formative system in a way that does notWE ARE NOT AWARE of the damage that it implies , because if this happened in the private sphere, this would surely mean the immediate closure, the DEATH of the business or company, which is a very serious matter, which should be taken with the seriousness that it demands, showing and walking as a minimum (the emotional is complex and takes time) with the human maturity that we should or should self-demand as adults, without pushing or conditioning anyone.

"A free being, if you see a door in the middle of the desert, learn to use coherence to develop intelligence in order to look for the most appropriate questions to understand that context, the stupid or oppressor kicks it". by another author that I don't remember the name and Carlos Azuara.
In short, let's learn to recognize the facts beyond our navel, an individual and collective benefit (anticipation), both mentally and physically, we will appreciate it.

PERSONAL EXAMPLES.
EVEN EXAMPLES:
1. The Peculiar Grip.
Below the photo I explain a story about it.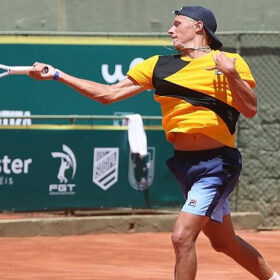 As an obedient boy, demanding when carrying out the tasks, when they are already staying, more and more without arguments within the two promotions in which I was, at the voice level, I had already been through mapfre with colleagues of Mr. Ruiz-Cotorro, and later with a speech therapist, who, curiously enough, was already known to them as well, "because you are in very good hands", without being able to be operable, being the most serious injury of all possible, the progress was brutal, as well at least if my companions recognized it to me; So they decided to attack me because of my way of holding the racket, exactly the same as the one in the photograph, who does not recognize it is LEO BORG, son of Bjorn Borg, which has the same grip as his father !!!, the same as FEDERER !, the same as Pablo Andujar !!!, so I could continue ……. What makes this grip special, that the components of the federation closed in itself like dizzy of unknown players? :
You lose control, but you have more ball speed.
It is a much more natural extension of the arm, a great advance in avoiding injury.
The wrist is never locked, always flexible, which is another injury avoidance benefit. The higher the grip, the easier it is to block the wrist by habit or vice with serious consequences.
Greatly reduces the intensity of the vibrations through the body, much more contact with the ball.
That man in the shadows seems to have forgotten all of this, in the same way when he told me, not having responded, thus leaving him without a possible answer, as my coach said, "You were stupid because they had no answer with which you had said that ". Something so simple that it does not seem that there is much awareness, at the same level of my insistence on the SPLIT due to the harmful consequences, not only in loss of primordial times-hundredths, according to execution and form, but in the dragging or blocking of the hip, not pulling neither core nor upper trunk nor dorsal, I am not an eminence, neither physical preacher nor physiotherapist, although I have learned a lot about it, but there are things that are seen in tongues (as we say for my village) damn !.
2. THE PHRASE of unconscious self-nudity to the Guru of Love and Peace.
Another brief detail in this regard but very eloquent in terms of the psychosocial situation, during the quarantine, in an interview with a Guru of Love and Peace, of whom I have nothing against, they have spoken to me very well about him, including my own coach. with people in common, of whom I would be delighted to share days with him, but that prevents commenting, as we have seen in many players who have passed through his hands, non-compliance with something that in psychology is basic, "If you open a wound you must knowing how to close them ", this is sacred and indisputable,Obviously there are certain notable shortcomings in this regard, but his good intention does much more good than many unscrupulous intruders, having said this, in said interview, at the end of it when people were saying goodbye, and on those dates, with people locked up, great thick of people in the computer, the teacher in the shade, with the RESPONSIBILITY that is assumed, said the following, "Thank you very much, how well you explain it with how complicated it is" ……. where said phrase I leave more than in evidence all the work of these years, not only because of the absurdity of tenisxetapas (already speaking in the previous article), formative and others, but something much more personal that he will only know.
Of course because of what we are having now, in whose hands we are, giving a voice in the past Simpoisum to people who during the entire quarantine, but I already knew long before it was known, their intentions, they were playing the passing word game, Caught in panties again and again, it was already in person on several occasions, I am not a psychologist, in the future I will be, sure, because I will study it, but I have content, with basis and argument, with experimentation, integration, suffering and exploration , which can well be verified in different organisms, in addition I have also been explaining it a little, above this article, throughout my networks, my channel and my website, it does not occur to me to play with Mental Healthof people, I know how far I can extract my gum, the potential of my content, that many psychologists could use very well, but even so, there will be no great psychology professionals out there !!!, not only with tools of the career, but at least with good human bases, to advise and be close to the RFET , instead all the boring grotesque that we continue to see, full of ignorance, ethics and lack of self-responsibility.
3. Public Physiotherapists vs Private Entities. (This is true for federal teaching officials especially).
I perfectly remember being in a center – public outpatient clinic with physiotherapy, and in another public-private center associated with insurance companies, the pace of the physiotherapists was very different from the requirement to stop from a private and much more so if you are autonomous, there what They made a couple of messages, an ultraviolet light and some electrode patches, they passed each other, you wait for the space or machine to be book, and that's it … When you talked to private physiotherapists or private body workers, I know places with weight In Madrid and Majadahonda, when some of them leave the public and go into the private sector, they usually have problems, because they cannot stand the dynamic rhythm, they have not prepared their head towards a totally different dynamic rhythm and with the need to add aminimum psychological rhythm on the basis to withstand the high volume of work, almost without pause, why the passage of time, through habit, beliefs, thoughts, oxidation and institutionalization towards a place, process of doing things or both leads to being in an excessively rigid internal state. THIS IS THE BREAD OF EVERY DAY IN THE RFET , let them tell many of the players, so I can think of those with a sign up … and then ….., not all the fault of the components in this regard , but if a great weight of squeamish influence, without hesitation.
4. Irrational use of technological materials – Congress actions.
Through my attendance at different congresses between Madrid and Barcelona, ​​as well as my experimentation through the Tennis Queen's club, some cases explanations, in other uses of tools, you observe details of all colors, without getting to generalize with three clear parallel walking patterns of psychological states :
Speakers who become spectators, with very little capacity for listening, attention, and reinforcing curiosity. I suppose they already know everything …, with a rebellious ego representing an important coercive void, but then the rest of us must reinforce ourselves with them, quite contradictory.
The display with its tool or content, which when you take it out of the game and ask it, it is a little out of the game, because sometimes information does not go to the player, if it remains in the coach, it does not stop being a human, which psychologically self-generates a psychomatization that the player will pay sooner or later, and it is more, many times, witnessed how the player is at a psychological level at a higher level than the coach, that is one more sample of the serious training problems that we are carrying, to at least obtain an optimal level.
Those who look from one side to the other looking for the answer, since internally they do not have it. This is a seriously enormous danger, many with titles of monitor, coach, the result of much of the aforementioned consequences, are unable to follow any explanation, no matter how well they play very well or do not play shit, which if they do not know how to see the errors technical or physiological impacts, what are they going to correct? And how? In the end, they pull from many external factors, those lamentable technological tools, cannon fodder for the whole body, which once again reflects the serious formative problem at the root.
Do you care now about the prevention of injuries, including the hip, after all that has been thrown out? … I would say that you hypocrisy the fair ones.

5. The Hotel.
In this case it is a very clear example with the absence of Leadership, the absolute lack of control of the power that exists right now around the federative teaching, with psychological states that neither find out nor will they find out about the current demand so demanding, in addition to the counterproduction with any research work (valid reflection for any branch of work). Let's go to the example, fine:
In a hotel, with a director in charge and with the central office in Barcelona , which let's say "you are your own boss", you do and undo, you are on the loose, you think you control everything, you are also accompanied by an intimidating first impression physicist initially, although later with the passing seconds it falls under its own weight, do not you sound like something with RFET ?, well still, its total obsevación also based on the screens of your computer, however there is no leadership anywhere, missing criteria, absence of neutral meetings and an excess of evaluation from external factors,were condemning department to department, creating unrest in the thick of the whole hotel, going off people one by one, including the deputy director, many letters of resignation at once, which made the office of HR of Barcelona name was , here I guess Some touch of attention, it took him late and badly, those who would still remain in the hotel, to spend an individual round of meetings, to find out the incentives and interest of each one, a situation that again generated a run run in mouth, nothing pleasant, all this leaves a ship adrift, very clear reflections of some very marked institutionalized states , that all this ends as is obvious in a general environment reverberating with gravityin the service that the client receives, although it is also true, it will depend on the emotional management of each individual in the face of situations.
6. The Private Company.
This example, lived in various places, in my opinion is very important in the reflection of what was experienced in the past symposium with several of the speakers including the puppet and shadow leaders , together with their clapping hands and what is more than predictable what what will happen in May .
A transition occurs in the office, restaurant or hotel area, when the new managing director or manager is insecure about the need to control everything, not to generate collaborations with the rest, with attitudes and languages ​​out of place, where his navel is the only hold, closed in a narrow frame without sights, walking along a path absolutely opposite to the demands of the clients, you run the risk of sending it to the bottom as fast as the climb, an unnecessary risk, for not doing a nobler job and honest, according to the reality that exists and not what you want it to be, a necessary flexibility, as explained in the consequences, or you leave, or they fire you or the business goes to death, there is no more. That in a public entity like the RFET,They do not have it, they will never know what it is to open or have to close a curtain, but I WISH THEY HAD THAT PRESSURE IN THE RFET so that they do not go around with those immature bullshit of school children. PSYCHOLOGICAL SELF-RESPONSIBILITY IS FUNDAMENTAL.
7. The WALKABOUT. Australian Sport / Bar / Disco.
Very clear example of LEADERSHIP AND TEAM UNION !!!. Despite the fact that there were several managers. Three departments, the kitchen, the small room with BAR and the Big room with BAR, storage and RUNNERS area (collect glasses and whatever it takes), such as sport Bar, cricket, Rugby, Football, always at full capacity throughout the day At night tables and chairs were removed, the party continues. I remember one Saturday, we started at 11:00 a.m. and ended at 3:00 a.m. on Sunday, 5:00 p.m. without stopping, not even to eat, something quick in 5 minutes, piecework, it was a 6-nation weekend of Rugby, Cricket and regular leagues, then parties, well here comes the story, two hours after starting the service, at 1:00 p.m., the managers without trembling put it, the team is above their comfort,they threw one of the chefs directly out onto the street, so the managers took hold, rolled up their sleeves and began to work in the kitchen like pigs, lending a hand, the importance that no matter what events or consequences, the team , the collective is above.
The same as in a public entity with the RFET, right? They are paid by the usual ones, and now do you care about injury prevention? Let's not fool future doctors, doctors or tennis listeners , and especially yourselves too, let's start with the basics, build, evolve, while we continue to push through the media to people who should not be in focus for reasons more than obvious to the appreciation of any good human being, and not just psychologists with good appreciation, content, to see clearly a situation that harms themselves, lying more and more in an accumulated tunnel of confirmation of lies, living a lie more and more twisted, and as well as the abhorred mass, but those who They know how to get out of the current and look for their training, the brave little ones, who do not circulate in a Ferris wheel, that will not affect them, but in the end the social weight is too high, although …
"The lonely and free internal and external path is better than the path of repression drowned in lies"
LET US BE COURAGEOUS WHEN MAKING DECISIONS, EVEN IF ONE DOES NOT PLAY THE CLOSURE OF THE BUSINESS BECAUSE OF BEING A PUBLIC ENTITY, IF IT IS PAID BY EVERYONE, AT LEAST BY THOSE WHO LIVE IN SPAIN, AND THOSE WHO END UP PAYING THOSE WHO FOR AN ACHIEVEMENT OR OBJECTIVE, THEY LISTEN TO EVERYTHING WITHOUT QUESTIONING AND WITHOUT THE FREEDOM OF PERMISSION TO QUESTION !!!!
COLLECTIVE AND TENNIS FREEDOM ALWAYS !!! MENTAL AND PHYSIOLOGICAL HEALTH IS NOT PLAYED LADIES !!!!! LET'S RESPECT THE CODES OF ETHICS above colleagues and THE ETHICAL-MORALS, this is ANOTHER ENOUGH ALREADY BIG AND WELL ARGUMENTED !!!! I invite you to read my previous articles that will come in handy in other situations that have also been mentioned here.
I ONLY INVITE REFLECTIONS OF CONSCIENCE !!!
Thank you very much and a hug!!!
Faithfully with affection,
A lover & respectful of the values ​​and spirits of whatever sport but specially The hidden on tennis .
Remember:
ALWAYS PURE TENNIS !!!