Always we said that to play on grass could be unpredictable, however if we are able to analyse each detail in a wide way that push us to place away about that could consider as merely logic, then probably will be most close of understanding all that circus of a sport so wonderful called TENNIS.
TENNIS is my office of job, from long time ago that is my portable office where want to be and that day after day my job have shown that I am there, brutally ready to bring aspect and characteristics that probably nobody can expect, because have to spend too much energy why I haven't been player or why don't compete, supposing that then wouldn't the enough tools to help properly to a player, but I could say you, dear reader, in absolute confidence that limit that I could help will be going far away about that you could expected on, because the job is quite complete on every corner, simply let me to be on a TENNIS COURT.
Said that, I have been so lucky to spend that year on the LTA, and have on my side a lot of players, that couldn't lie if say you, that from many of them have gained an quite strong affection, simply because if you are human, treat to them in an ordinary way and even are able to be there on the right moment and on the right place, make that a prison can be converted in a Paradise, or at least grab a smile of them and get to make that their journey can be the easer one ever possible on.
Between that humans can find to Jeremy CHARDY, a pleasure have felt his last dances on, even as the other day on the street, when recognised me and gave me small gesture that recognise or appreciate a little bit that you have done for him, detail that is the same thing that have done for the rest the players, coaches…etc…,… ALTHOUGH I WOULD LOVE that HAD BEEN IN THE OTHER SIDE, ON AND OFF THE COURT, HELP THEM to prepare their matches – championships in a healthier and super strong way….
Also in the lasts days found on the street with other British players and feel the same thing, but even in a very casual way someone from Spain, cross with someone again and others are new meeting, but at the end the environment and the small spare of moment was friendly and grateful as absolutely unexpected, but leave good feeds have it, although one can live from the words, but the human facts have a huge value that is perdurable for the rest of the life.
Think that if on grass, if Jeremy has the enough confidence and play with CARLOS to the cat against the mouse ¨Buscarle las Cosquillas¨, means to move the circle of compass that need Carlos to hit the ball, then get gain leadership with the point, and reach a dominate a big parcel of the game (DE MIÑAUR in the last Queens for example made it so well, but missed to be clever in the spaces to avoid that he came back to the point again…).
.
CARLOS ALCARAZ,  honestly if that I am going to say is sounding arrogant is your fucking problem, is not mine, tried to be honest when try to explain the things, really have a technique really so similar to mine, in the way that learned to develop it, in fact, as there are so much engineer that think that know of tennis, when see me, got to lost because it is not fixing in theirs roles….. anyway want to say that he can develop his tennis on whatever surface, that need to hit it as if was playing an accordion instrument but on that case the racket and body are the instrument, let him a lot of the versatility and extension, but it is obvious that there are details that must to work on, as in the stiffness of the angles in the movements or as have insisted several times because have a cause-effect not just in his game in counterattack if not that also in the proper service that leaves the hamstrings (Isquiotibiales) in position quite fragile.
Also my own bet on boys is to see as SHINTARO MOCHIZUKI, responds on the championships as already made a brilliant junior championships few years ago, but about all has a game really complete, and must go up without doubts at all.
But honestly want to wish that could gain that tournament is CAMERON NORRIE, appreciate a lot his person, a brilliant and honest guy, great human about all that put a lot over there, hopefully can keep learning from him and all his team, even have been able to help him a little bit.
About Novak DJOKOVIC, if you read all my last post from the last months on my RRSS, that told about many aspects, and on similar way that Carlos Alcaraz does, is not making something stratospheric is just to place on balance few details, don't be a TUBMBLER….. and about Andy MURRAY, feel anger because think that is going to frustrate when think that could have a higher peak of performance independently of the circumstances in his body, I believe on it, there is details that would do a better answer on!!!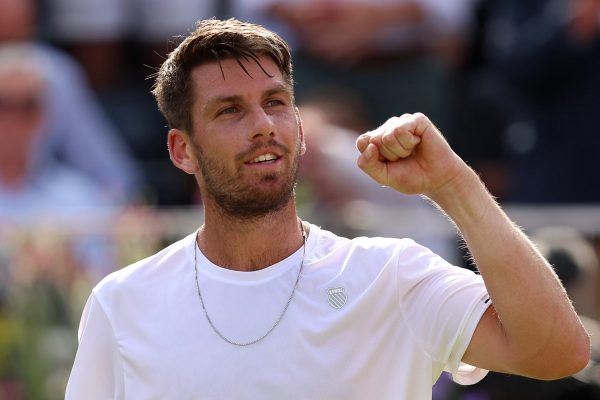 By the way, a very TOP TEN PLAYER, is a surrealistic situation for me, because every evening when go back home, I can see him and his team from the house that they are living during the tournament as is barely about 50 metres from my flat, so let me to observe many gestures, I like so much that I am observing in his emotional race that bring in, the calm and ability to enjoy in that same pause, as I don't think so that is easier to keep that linea, guess is a of the reason why he is where is right now, think that he can win this (But don't know as he is technically on court right now).
On Ladies, the window looks like more opening, think that if Iga Swiatek is eating by her own emotional speed, losing on herself and overwhelmed, then more ladies will come in to reach the goal at the end, Petra Kvitova, Aryna Sabalenka, as will keep the Rhythms Coco Gauff, but Ons Jauber must be able to loose on court and be the rival here (feel that is a little bit stuck – tension body-thoughts)…..also want to see if someone British woman can give a step more but must adjust details for it…., and the last thing there are two names that don't want to forget, Karolina Pliskova because if loose her mind and grab a rhythm could be really dangerous, and also I like the spirit and recuperation that Yanina Wickmayer is bring on but apart form improvement small details of adjusts with the ball, about all to find a balance between the emotional rhythms, the determination, the intensity and inner acceleration, because to the big players would do to lost too much force, arch of the movement and dominancy obviously.
Finished with a sentence,
¨ YOU DON´T KNOW THAT YOU GOT, UNTIL THAT YOU LOSE IT!!!.
¨ NO SABES LO QUE TIENES HASTA QUE LO PIERDES ¨
¨ SOMEONE WILL REGRET TO DON´T HAVE MY PERSON ON HIS-HER TEAMS ¨. 
THANK YOU VERY MUCH.
ALWAYS A SIMPLE TENNIS!!!.
ALWAYS PURE TENNIS!!!.