Well, keep going to analyse the different matches that was happening yesterday, where must place on context a few details on:
Carlos Alcaraz,  not one can say that is an amazing show to see him playing on, but think that must respet the times, sincerely the sheeps that walk in parallel as a flock without focusing on, so between all the points we have on, everything is going in a frame that is repeat a story well already known, is the consequence of esistential empty inner.
About Carlos Alcaraz, have some variety of peaks that with a better emotional reading of Novak Djokovic have been dangerous for him in the way to get his objective, here some would say well is normal because are youth´s impetus, but I am sorry my maturity can accept, then would be as in the animal´s psychology (Dogs for example, 8 months with a trainer dog face to face and on investigation about the own field), once is the novelty, two is ok, third is ok, but after I am so sorry, you have to take reaction before develop a behaviour and that behaviour is going to convert in dangerous habit, becaue the funny moments then will start to don´t be too funny.
Obviously the level of exposuring but about all as grab that level of exposuring should give him an energy and tools that with the base that is showing out, but could be disturbing if its not grabbing it like that, then ankle and knee can´t  hold the weight that will be receiving on, from that can say that the Serve and the rest through of the movility and opening in relation to the genetic are the point that must elevate the level without getting to lost the consistency from the rest of the shots and issues around of our court´s area.
Novak Djokovic,  although I didn´t watch the first set, that was observing in the another two sets was as two players in one, means, there was a Novak in a contemplative behaviour as waiting for something without getting deep in an emotional reading that have been him a great advantage, even with position on court was placed out of whatever kind of devolution; but on the contrary, wow, suddenly in many moments had a Novak, intense, firme, in a very good positional firm that let him to hit the ball in its sweet point with movility and depth, so practically leave to Carlos without answering, however the focus of choices was closed and surfing in a mind full of noise without getting smashing on well. Think that must recover his focus, understand about himself and gain that physical tenth don´t have his chest in a jail that can drown his position on court.
Alexander Zverev: Here, let me to write a sentence that a ex – educational chef (RFET) said me once full of anger, because the body language can´t lie the real feelings " The professional Players don't need a coach, just to be simple guides on ",   recgonise that never took that expression seriously because I wasn´t agree on that, the time have shown the reality on, and right now for example, Bruguera, show the importance to be both things, sometimes have observed a ¨second coach¨ as involved with his/her player, and the relative importance that is brough stuck, because although there are not coaching, remind you we are human beings, and your expressions or reactions is going to get some kind of infuence in relation to the person, his/her emotional state and about all in comparision to level of management and emotional leadership that have in.  
About his techniques is going to way in the same way that obviously said in the article that shared yersterday, 24h before, in the second serve, his toss of ball is great perdjudice for him, because usually down emotions to accurance the serve in, as it is a little bit blocked, the set of the mechanism create the rest; about his backhand and volley, left side of the shots, more jumping on the ball, pushing more natural body movement, that let him to catch up the same power and depth in repetition that his forehand.
Stefanos Tsitsipas:  On my case is difficult not remind the first time saw him that was at the Queen´s Club, while showed out two differents faces that right now have taken much space between them, so make it dangerous in terms of development and adjust in, so in competition is put out of the game, as the speed of movement, space and mind are not walking on harmony, that create high levels of frustation and even disorientation.
If we talk about his technique, here will do it a "BREAK" valid (VALIDO) for the all the players mentioned here but also for everyone, well remind that all the shots have emotional compenents, means that how much sense of consciouness you are able to get in, more transparent union you get with your body but about all, more brave to be you place your mind in a direction on white without interference to the movement of the body without falling in automatisms on, then will get to acompany the movement in its naturalness. For example, Djokovic yesterday in his dropshots cut the whole movement, Stefanos with his backhand late and without damaging on….., and more although is would be examples more basic and visuals.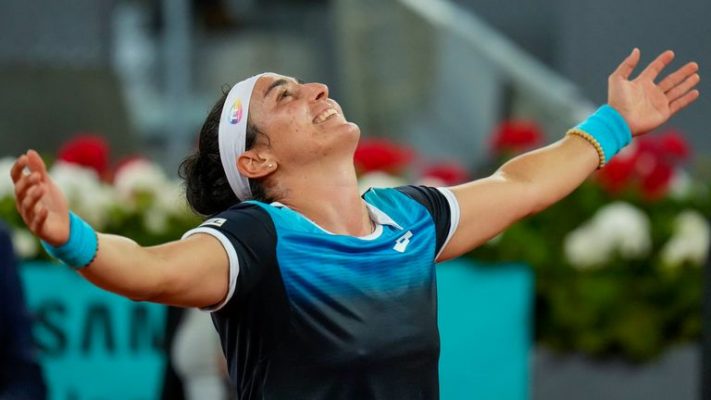 Final WTA.  Jessica Pegula vs Ons Jabeour.
Really about all in females, USA is already coming from the last two years with plenty players in a very good consistency level, like Danielle Collins, Coco Gauff, Anisimova…etc and of course the own Jessica Pegula, plus others recovering strong after of different injuries but that for any kind of reason, practically are crossing totally unseen on and off, probably the medias and its miserly treat has something to say on.
Although haven´t been able to watch the final, watched few matches before and some highlights, but let me first to start for the end, when read a declarations of Ons Jabeour, " Don´t want to make myself disappointed ", it is a very tough affirmation that is representing out something very dangerous that can hide underneath of it, because when use the word disappoint is in realtion about our expectatives and limits placed on, but about all in many occasion is signing out the wishes that others want for us, or better said, the silence selfishness that is placing about the shoulders of other human being an expectatives or way that will create a blur to gain in the truth potential that could be developed in, and about pretending to sastifying an obligations that don´t belong you, if not that is coming from the absence of responsabiity that others must have over theirself. SO CAREFUL WITH THAT!!!.
If we talk about tennis, Jessica Pegula keeps a crouching position in too much extense on the time, that my point of view isn´t working in her benefit as technique, mental as physically, so feel that rest clarity and grab the ball a time before to get that it makes more damage and of course would be more healthy at all, in relation to that, made more difficult to get more intensity on the game to that force the oponent to be more time in a movement outside of her comfort in every area of her game. About Ons Jabeour, without forgetting her mental thought that had commented above, during and after match, created in her a level of tense that was tighten her chest up, limited every movement that got to place on balance through of using of visual focus that let herself to risk with intelligence to create shots with initiative inertia. Well could be more specific in other points, as small details techniques even in repetition of patterns that blocked spontaneity or couraage to prove things to change during the develop of an match.
" The matter is not gain a tournament, or 24 tournaments if not as you are making the way and about way which is the sense and regularity that have that process of development, because at the end what is going to endure in will be your own honest reflect, if is not healthy, when a piece is being moved from a common place, you will be absolutely lost on and off the court "
Criticism to the tournament MUTUA MADRID OPEN.
Year by year is always the same story repeated on, because in exception to the Spanish arrogance, really I am not sure anything stupid that is well known that the tourament nor is the favorite of anyone as doesn't like at all as of course is not going to bring the tennis close to the society or at least in communitties that is going to keep it on.
The matter about the Vip Boxes mustn't keep one year more like that as is something ruin and unacceptable, because practicallly are totally empty in the all matches with the exempt of Nadal' Matches and now with the new guy coming up Carlos Alcaraz, but with the rest is not something nice at all.
And the other matter, that must be over forever from once and for all, is the disgusting utilization of the woman´s balls, as if was to place on men's balls in the female matches, doesn´t matter, the issue that use human beings as in cosnciousness as uncosnciousness are or maybe are not in their own faculties, as if were sexual objects or for pure commercial advertising, in the century XXI, apart of that is not making sense at all, either represent the values of the sport and much less all the set of abiities physical and mind that has a spot as the tennis, as have said and repeat again is absolutely disgusting on.
" The Woman is more than an sexual object, two boobs and one minge, that have or better say that could have in to share with the men that value it, is a gift that is not possible to buy with money but that is gained very depth as a set of tools that address to powerful personal development ".
ALWAYS PURE TENNIS!!!!.
FDO. CARLOS AZUARA AGUADO.