Dear reader, let me break down what I was able to witness from matchday three of the 2019 Wimbledon qualification, as I was present. That if you already know that I do not like to talk about what I do not witness, always coherent, also if I had the option with adequate tools, to take notes of everything that I am seeing in a comfortable and appropriate way, without standing, with direction and with a sense of utility, I would be more productive, in any case my head works very well.
The ones I have seen today are:
1. Guillermo Garcia Lopez vs Lukas Rosol.  This is the last part, since I did not arrive on time, on the way to Roehampton as I posted on instagram, I decided to take a more human priority, helping another human being who had punctured a car wheel.
2. Ruben Belmemans vs Akira Santillan.  (sideways while watching Willy and later while watching Pedro Martinez)
3. Mikael Torpegaard vs Tommy Paul  (first set)
4. Evgeny Karlovskiy vs Pedro Martinez. (what little I could after seeing Willy)
5. Olga Danilovic vs Amandine Hesse and Anna Zaja vs Beatriz Haddad MAIA, (almost at the same time, until this second game ended, and then the one with Paula Badosa )
6. Cristina Bucsa vs Samantha Murray (last two games, coincided with Paula's match)
7. Ankita Raina vs Sabine Lisicki (last games)
8. Tereza Smitkova vs Yanina Wickmayer (part of the second set and all of the third)
9 . Elena-Gabriela Ruse vs Irina Bara. (out of the corner of his eye, he was on the track adjacent to Paula's game)
10. Paula Badosa vs LIU Fangzhou  (Full match)
THE APPRECIATIONS:

1. Guillermo Garcia Lopez vs Lukas Rosol. The feeling that it was like a kind of boxing match, you hit, I hit, I dodge you dodge, Willy lacked being mischievous, taking advantage of those weaknesses that Rosol showed through non-verbal language, not looking for so much low ball , perhaps deeper forcing him to leave the space, even more so in those two match balls that he had in his favor, a high topspin serve, that the ball was thrown on him, without being able to remove his head from the racket, and the second , with a drop, he must have continued playing, be aggressive. Even despite the tactics and the head, he must leave with his eyes high, a match that he fought, with beautiful technical executions. Let's go !!!
2. Ruben Belmemans vs Akira Santillan. Belmemans, with a luxury spectator, Alyson Van Uytvanck, are one of those warriors who magnify this sport called tennis, it goes on and on, very cleanly, it knew how to vary a lot, those calls against rhythms, which are so annoying, when you are at it and suddenly They cut it off, Akira went crazy, protesting a lot, with communications towards himself and not good gestures … I didn't see that part, but if I saw the broken rackets … he went outside, in a remote area and broke the five I had step by step …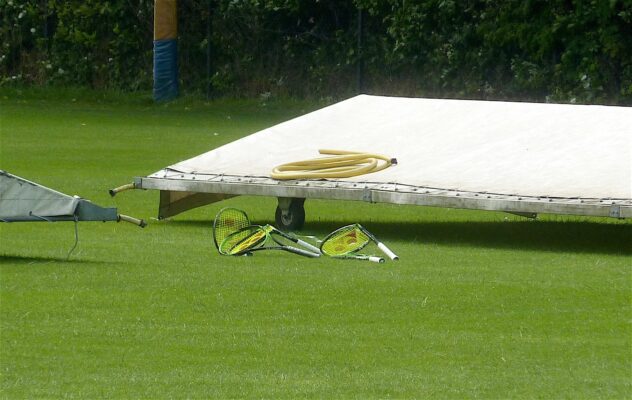 3. Mikael Torpegaard vs. Tommy Paul. Luxury spectator, NICK KYRGIOS , who by the way, also went behind the curtain (avoid that the spectators could disturb, good decision to stay there) to see the mad end of Belmemans vs Santillan . I watched the first set until I went to eat something before going to see Paula's game. I was very clear that I was seeing, Paul reminds me a lot of KyrgiosAlthough I hate comparisons, I mean especially how easy it makes the blows, so natural, super simple, however the head was with too much trash inside. There was a gesture that he made, not so much because of the gesture itself, which can be common in hot situations, but because of the way, when he threw a bottle of water over his head and at his face, a soda, a look, sensations, sight of how the game was. To talk more I must see.
4. Evgeny Karlovskiy vs Pedro Martinez. I can hardly say from the little I saw, I just appreciated that he should have shown himself much more, in a way to say here I am, to get more out of what he can have inside, more intelligence, perhaps mental fatigue did not leave him, when using a hit or other and be in activation to execute it perfectly.
5. Olga Danilovic vs. Amandine Hesse and Anna Zaja vs. Beatriz Haddad MAIA. Luxury spectator Patrick Mouratouglou , paid much more attention to Beatriz than to the other, both seemed bland to me, based on unforced errors rather than winners or forced errors due to game display. Both Olga and Beatriz in their respective matches were much more planted, present, there would be details both in the way in which they lose or win, set or game, to become later, in technical aspects to talk about, but for this it would be record and talk about it, ..
6. Cristina Bucsa vs. Samantha Murray.  I can not speak practically anything, I just know that it was necessary to clench teeth, not end up in such a defeated, almost conformist attitude before time, I consider that technically he has very good blows, but the physical part should raise it and mentally, some cleanliness. 
7. Ankita Raina vs Sabine Lisicki (last games). It has a name and attracts many people, that is clear, in attitude and temper, and experience does a job, it was nervous, I am not put in because I am down the ranking, and the path that it had to travel to return to the level it is competing, very aggressively, moving the ball well, deep, changes … etc … the game even seemed like a kind of trap for the German, due to the good number of Indians and especially the positioning of the Ankita technical team, in the area of ​​the "gates" instead of in a corner or side, a little more and they get inside the court, in addition to me it did not seem reasonable to me the pressure to which they subject their own player, at least seen from the outside, I receive that impression, a pressure like that seems very complex to know how to manage it to bring you to fruition.
8. Tereza Smitkova vs. Yanina Wickmayer. Great match of both, players who have been 57 and 12 in the world respectively, it may be that women's tennis is not so bad, but what comes after it can be scary; Returning to the game, Tereza was afraid to win, she was distracted by too many external things, some with good reason, because some kids (irresponsible parents) would roll down, they could get through almost the gate, take any ball, or simply the distraction that they suppose Although they are children and should always play, but there was not the place or time, this led him to lose a certain organization of the game, not knowing what to do, also much to see the positive and harmonious attitude of Wickmayer, breathing, great defensive work, knowing when to attack, change of directions or rhythm, smart shots or attentive to changes in the net,
9 . Elena-Gabriela Ruse vs Irina Bara. I hardly saw anything, being focused on Paula's, but I loved the attitude and aptitude of Elena-Gabriela Ruse , what we call for my second land, Segovian Castilian, "having a garrote", honor, a little more and I think that she must have had her entire tongue full of wounds, power and leadership strength without a doubt, then that must be channeled to transmit it in simple and natural decisions and blows, although she has them quite clean. You know or record to review later, or simply focus 1000% on that match to record each gesture.
10. Paula Badosa vs LIU Fangzhou. In the initial rally you already see certain details coming, Paula is very hooked on the game and knowing where she is, in the china, her inconsistent right, at the second or third, her point of impact opens the head of the racket, she lengthens too much and it does not close, what it does is send it away from the bottom line, now when it catches it well, it is very powerful, it makes it difficult to counteract, apart from the fact that the Chinese are very suffered, but soon they go down. I don't know if Paula knew about this during the rally or if she had studied it before during the preparation, I'm not sure if she was really aware of it. 
From 4-2 down in the first set, Paula was out of ten in attitude and aptitude, it was the best of the game, the attitude and aptitude with which she faced it, so it's nice to see a game and for her to enjoy it more, that is. I think she shouldn't be so tense inside, anguish, she plays it against her, she doesn't do it well in the rest of the aspects, few give you holes like the Chinese one. Paula's right hand must run more and take the lead more, on the backhand it was a disaster the whole game, the funny thing is that the game ended with a backhand winner for him, the only one who did backhand in the whole game; That west grip from the forehand and east from the backhand, I don't like it at all, it is true that you give the ball more effect, but it is very difficult, unnatural, and the ball almost always stays soft, very soft, There with the right, the Chinese girl caught her almost always, she gave herself too many points, it is longer over time, if she wants to climb to the top-20 it is more and stay, or change that setback or I think it is a very complex path, no I say unfeasible, but almost, but to suffer too much out there. Whoever works with her, maybe they will explain it to me better, details that escape me and I will better understand why, and more points of wisdom to my life book.
conclusion
I love this sport too much, I can spend hours and hours, it is also impressive, so many hulks around, I think that both female and male trainers generate excess pressure, also disconcerting disconnections, without alarmist I have no feeling of this job an adequate direction, too many egos, especially a lot of impatience, incitement in the physical, technological aids or technological advances that with misuse, only generate more psychosomaticism, where a work stress should not put more stress than the person already has. own job,what is scientifically correct sometimes to spare in favor of common sense, and a very hard work on knowing ourselves, our own body, the information that it asks of us, there the surrounding influences have a lot of weight to take one or another direction that implies the change sought.
Detail, Nadal has made Bernardes famous, they ask for many photos !!. Funny the matter, anecdotal.
Own claim:
I feel that it can help so much, because I know the potential that I can have, something like scouting but without technology from the most developed and natural human, I have to defend and show where I know that I have a very strong point of my potential, I do not even perform I will never give up !!!
Faithfully with affection,
A lover & respectful of the values ​​and spirits of whatever sport but specially The hidden on tennis .
Remember:
ALWAYS PURE TENNIS !!!